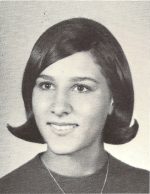 Christine "Chris" (Randolph) Carroll, 68 of Toledo was warmly welcomed into Heaven on Monday, July 2, 2018 at Hospice of Northwest Ohio. Chris was born February 17, 1950 in Detroit to the late John and Patricia (Healy) Randolph. Chris attended St. Patrick's of Heatherdowns and Maumee High School. She went on to Ohio University where she would meet her loving husband, John "Jack" Carroll.
Upon her graduation, Chris began her thirty-six year career as a beloved and dedicated teacher at many schools in the greater Toledo area. Chris was selfless, giving generously of her time and talents as a volunteer at various organizations including St. Francis DeSales School, Greater Toledo Aquatic Club, Ladyfield Elementary, and most recently, Christ Child.
She always took pride in being a member of the Healy family of Detroit and their strong Irish Heritage. She was known for her many "Healyisms" that often brought laughter and smiles to those around her.
Above all, Chris was most proud to be a wife, mother and grandmother. She devoted her life to raising her family with her steadfast faith. She supported them in any and all endeavors they pursued, especially the many tireless hours spent traveling to and cheering for them in their swimming careers. She consistently put others needs in front of hers. She had an undeniable sense of positivity and always chose to see the best in others. In the past fifteen years, she traveled to many destinations with her husband and family. She most enjoyed her trips to Ireland, Europe, the Mediterranean and Cape Cod. Many precious memories were made with her family and friends.
Left to cherish her memory are her beloved husband of 42 years, Dr. Jack Carroll; loving children, John (Katharine), Patrick (Kelly), Kathleen (CPT Lindsey) LaLonde, Dr. Michael (Allison) Carroll; cherished grandchildren, Delaney, Dolan, John "Jack" and Brady. She will be sorely missed by her siblings, John (Kathy) Randolph, Karen (Jerry) Karsten, Susan (Bill) Logie, and Cynthia Randolph. Also survived by her in-laws, the Carroll family in Massachusetts and several nieces and nephews. In addition to her loving parents, Chris was preceded in death by her brother, Stephen J. Randolph.
Chris was a strong and devout Catholic; she clung tightly to her faith during these trying times. It is with great appreciation that she thanks Fr. Ronald Olszewski, O.S.F.S, Fr. William Rose, and the Sisters of Notre Dame for their support. The Carroll family is also very appreciative of the countless visits, meals and conversation from family and friends who helped relive all the memorable moments and friendships Chris had established during her life.
Chris's family would also like to acknowledge the excellent medical care rendered by Dr. Roland Skeel, Dr. Deborah Guntsch, and the members of Hospice of Northwest Ohio.
Friends may visit Coyle Funeral Home, 1770 S. Reynolds Rd. on Friday July 6, from 2 to 8 p.m. where a rosary will be offered at 7 p.m. Mass of Christian Burial will be held on Saturday July 7, 11 a.m. at Christ the King Parish where friends will also be received from 10 a.m. until the time of mass. Interment will take place on Monday, July 9, 11 a.m. at Spring Grove Cemetery, 4521 Spring Grove Ave., Cincinnati, OH.
Memorial contributions in her honor may be made to St. Francis DeSales School, the Sisters of Notre Dame or Hospice of Northwest Ohio.
Send Message to listing owner