It's Your Belated Birthday Party!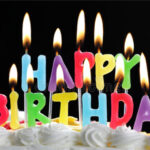 SATURDAY, MAY 14, 2022 AT 5 PM – 11 PM
American Legion Post # 320
204 Illinois Avenue. Maumee, Ohio 43537
Hey classmate!
You and all of your classmates are now over 70.
We made it this far. Let's celebrate!
It's a pizza party and everybody is welcome.
Pizza, pop, water, salad, bread sticks, relish trays, chips and pretzels will be provided.
Cash bar is available through the legion bar.
DJ Tommy will be playing our songs and taking requests. What' your request?
We will have raffle prizes including a 50/50 raffle. Donations (Wine, etc.) are encouraged.
And… We will have a birthday cake!
Cost: $15 per person or $25 per couple
Register on line at: https://maumeeclassof68.com/70th-birthday/ and then:
Please make your check payable to "MHS Class of '68" and mail your payment by April 30, 2022 to:
Cindy Naumann, treasurer
309 Turnbury Lane
Perrysburg, OH 43551
Questions? Email us at maumee68@gmail.com or call Becky at 419-508-8462