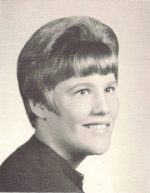 Linda R. Sherman, age 72 of Beaverton, MI, passed away peacefully on September 20, 2022 while surrounded by her family.
She was born in Toledo on June 18, 1950. She was a graduate of Maumee High School and the University of Toledo where she received her Library Science degree. She married the love of her life, Ronald E. Sherman, on June 29, 1974 and together they raised their daughter. Linda spent her career working for the Toledo Public Schools as a Librarian until the time of her retirement. She was an avid Yahtzee player, Ohio State Football fan, enjoyed being on the lakes, watching sunsets and most of all loved decorating for each season.
Linda was preceded in death by her mother, Della (Ellsworth) Stec; step-father, Joseph Stec and her brother, Michael Kosmatka. She is survived by her loving husband, Ron "E."; daughter, Melisa (Sally) Sherman-Weckerlin; brother, David Kosmatka; sister, Sara Ellsworth; sister-in-law, Joyce Kosmatka as well as several nieces and nephews.
Friends may visit at the Coyle Funeral Home, 1770 S. Reynolds Rd., on Tuesday, September 27th from 2:00-8:00 p.m. A Memorial Service will be held on Wednesday, September 28th in the funeral home, at 11:00 a.m. Interment will be private.
Send Message to listing owner