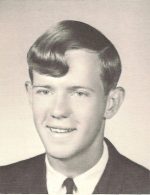 First Name
Arthur (Tom) Thomas
Arthur Thomas Asbury, "Tom" to family and friends, died surrounded by his family on January 6, 2022. In the last 6 1/2 years of life he survived a heart attack, colon cancer, and endless symptoms of heart failure. Tom was born in Princeton, West Virginia on September 16, 1949 to Hattie June McKinney and Henry Grady Asbury, both of whom have predeceased him. Tom is survived by Karen, his wife of 36 years; four children; Zac (Shannon), Meredith, Natalie, and Laura Asbury; one granddaughter, Peyton Asbury, and numerous nieces and nephews.
He graduated from Maumee High School in 1968, where he enjoyed running cross country. He enlisted and served in the US Army from 1968 to 1971, where he received honors as a rifle sharpshooter.
Upon returning to Toledo, Tom went to work at Chrysler Toledo machining plant in Perrysburg. He retired from there in 2003 and went on to work at the Lucas County Veteran's Commission. He said that his work at the Veteran's Commission was some of the most satisfying as he was able to help those who truly needed it. Tom was a fixture at basketball and football games at the University of Toledo, working at sporting events for more than 30 years. He enjoyed getting to know the coaches, staff, players, and patrons. It brought great enjoyment to his life. He could strike up a conversation with anyone and left a lasting impression on many.
He will be remembered as a gregarious and kind man who left handwritten notes for his children telling them to "have a good day", was ridiculously early to any event, loved collecting baseball cards with his son, and enjoyed a good ice cream cone.
A memorial service will be held on Friday, February 4, 2022 at the Joe Grogan Room at Savage Arena on the campus of the University of Toledo (parking available in lot #4). Visitation/reception will be from 4 to 6 pm and a short memorial and prayer service will follow. Donations in Tom's honor can be made to the University of Toledo Rocket Fund or the American Cancer Society.
Send Message to listing owner